So not long ago I posted up a
wishlist
all about the
Voodoo Vixen Plus size range
. I fell in love with every single dress and as a thank you they sent me one! I of course chose the beautiful Tilly dress in a 2XL. You may have already noticed that I have joined up with Voodoo Vixen to give away a plus size Tilly dress and a Eleanor cardigan in a recent post. If you haven't entered yet then I suggest you do as I am about to tell you why this dress is so amazing.
Click here to enter
So here it is, the Tilly dress in all its beauty. I have to say I love everything about this dress.
I always get bit worried when ordering dresses online from a brand I have never tried on. I often have a problem with how they are going to fit on my strange shaped body. Half the time they get here and its all completely off to what the size chart says but with this dress it was very different. I was amazed how well it fit with no excess fabric, pulling buttons or digging in underarms. It fits like a dream. Its made from a very lightweight and comfortable cotton that sits perfectly from top to bottom. There is still plenty of room to breath in this dress so you wont feel uncomfortable. I am wearing the 2XL from the new plus size range and the measurements are pretty much spot on with my own.
When I first popped the dress on I noticed the fullness of the skirt without a petticoat. It had a full shape right from my waist to the hem, making this dress perfect for every day errands. I of course still put a petticoat on as I feel that bigger is better! It has wonderful pleats all the way around (as you can see in both the images above) that defiantly helps in creating an amazing shape.
There is 4 buttons in matching fabric that run from the collar down to the waist. These are placed in just the right place to avoid any fabric pulling or unnecessary bra flashing from the side, don't you just hate that.
I think the collar on this dress was a perfect addition. Anything too big would have looked lost in the fabric. It sits nice and flat against the chest and makes a perfect place to put a cute brooch or a wonderful necklace in the V neck shape.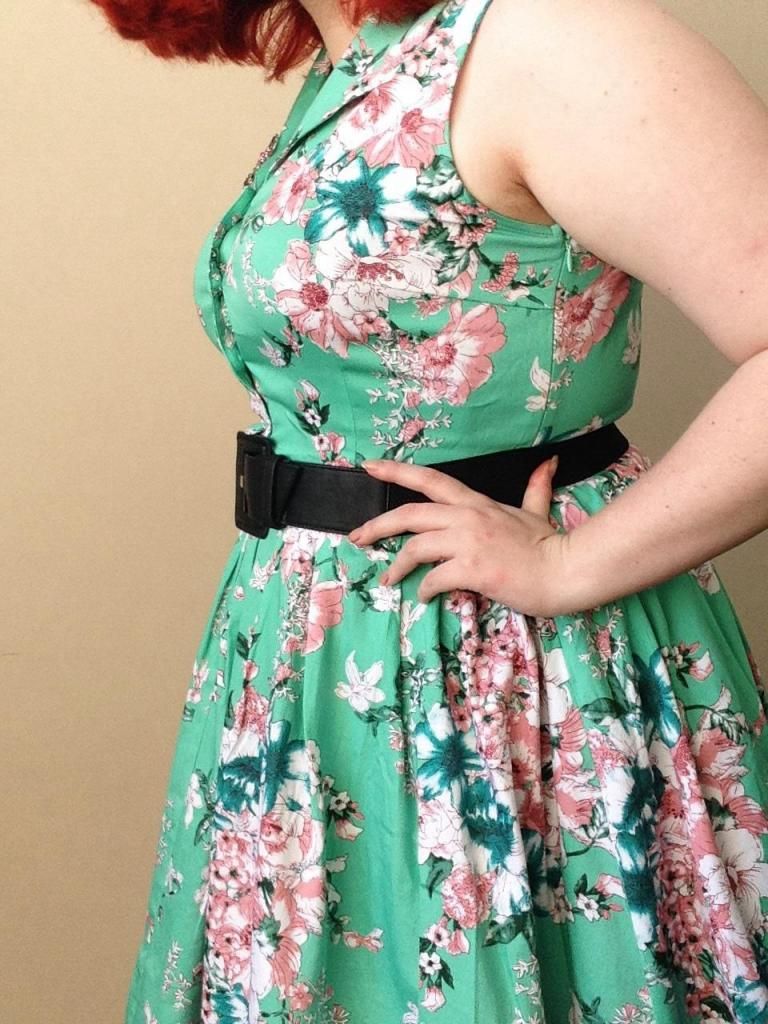 Just thought I would show you the underarms, I know how this can sometimes be a problem for us bigger ladies but don't you worry there is a heap of room and very comfortable to wear.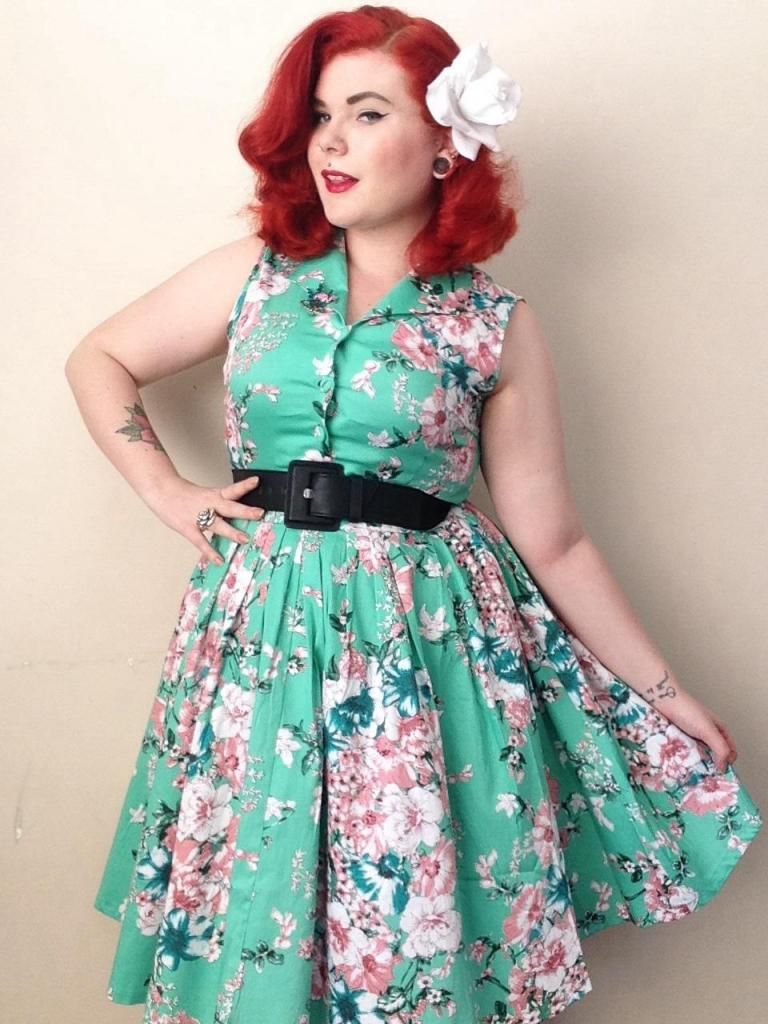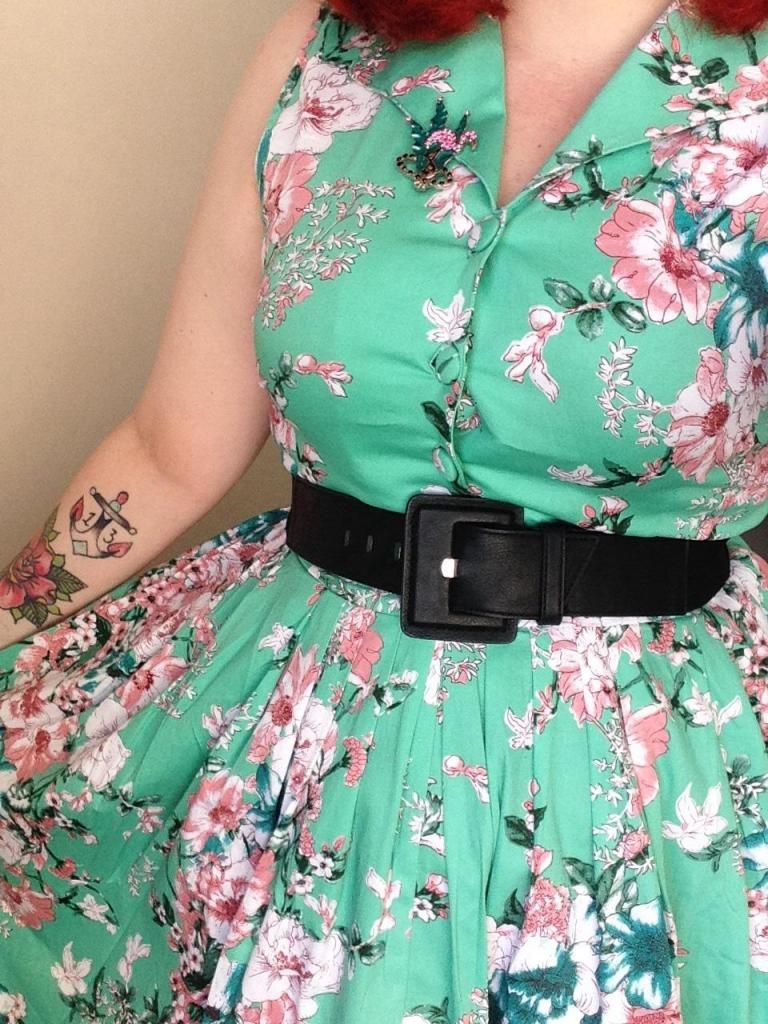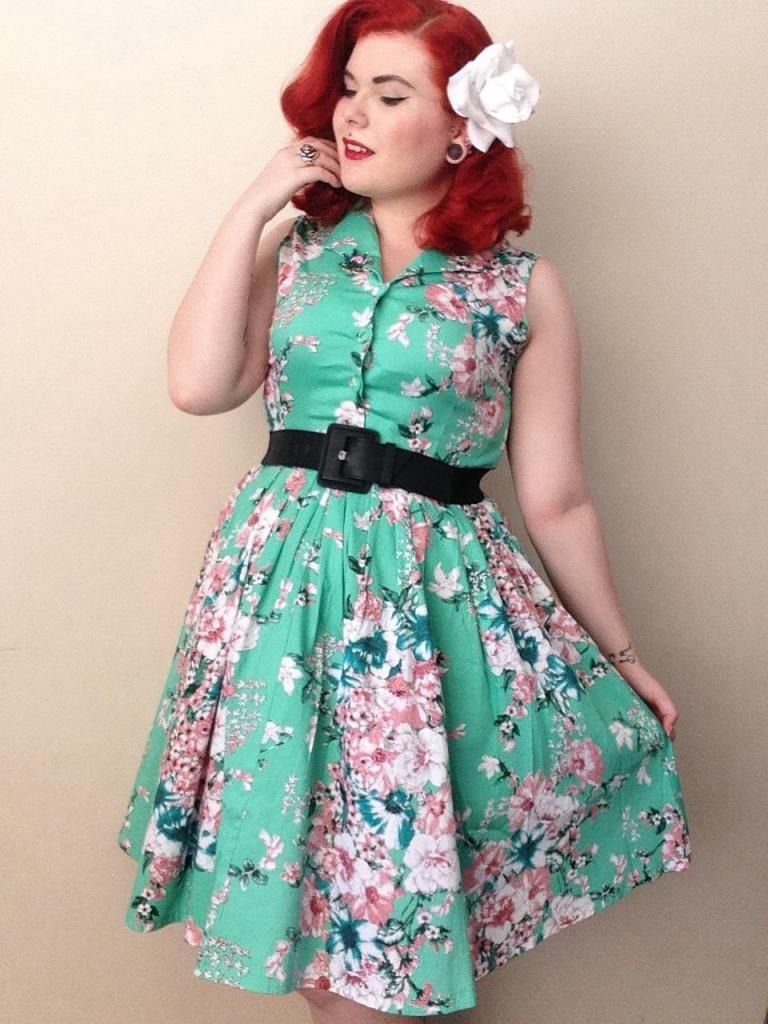 Each and every colour put on this dress go so well together. There is so many beautiful pinks in the flower details that all stand out so well with the darker blues and greens on the mint background. I would pair this dress with a matching baby pink cardigan on the colder days and evenings to cover my arms.
I just need some baby pink and mint flowers for my hair now and I will be all set to go!
Other outfit details:
Belt: Kmart
Hair flower: Gloss
Petticoat: Ebay
Bag: Bought on Holiday
Ring: Present from boyfriend
Don't forget that I am giving away this dress along with a beautiful cardigan from the Plus size range thanks to the lovely people behind Voodoo Vixen!
Just click right
here
to find out all you need to know and to enter!