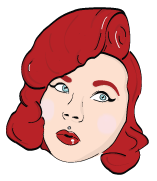 Hey there, my name is Alix but you can call me Lixxie or Lixxie Lou. I got my Pin up/online name from a nickname my parents would call me as a child and it just kind of stuck.
I will be the lady behind this blog, telling you the tricks behind my hairstyles, my favourite brand of red lipstick and of course, answering all your questions.
I am a twenty two year old lady from just outside of London who currently calls Perth, Australia home with my lovely boyfriend, Nathan. Everything is a bit up in the air at the moment but one day very soon I will be in my own house full of pretty things and couple of cats to keep me company.
I wouldn't know where to start on putting a label on how a dress, so I wont. I love anything from big dresses with petticoats, to simple pin curled hair. If you follow me on instagram you will know that I feel naked when I don't have red lipstick on because lets face it, red lipstick goes with anything.
Get to know Miss Lixxie Lou post